The Osage County Sheriff's Office employees professional and highly skilled investigators in the Investigations Division. The Sheriff's Office has resources and equipment to investigate a multitude of criminal activity. Below is a list and a little about each of our investigators working in the division.
---
Anthony Barrett
Meet Anthony Barrett, a seasoned law enforcement professional with over a decade of experience in serving and protecting communities. Anthony's journey in law enforcement began at the Tulsa County Sheriff's Office, where he gained valuable knowledge and skills working in various jail operations.
After honing his expertise, Anthony joined the Osage County Sheriff's Office as a deputy, where he continues to contribute his wealth of experience. In addition to his hands-on experience, Anthony has pursued a comprehensive education in criminal justice, ensuring he is well-versed in the field.
Anthony's dedication to his profession is evident through his constant pursuit of advanced training and education in investigations, including specialized techniques such as interview and interrogation. His commitment to staying abreast of the latest techniques ensures that he remains at the forefront of law enforcement practices.
Not only does Anthony bring his professional skills to the table, but he is also deeply rooted in the Osage County community. As a long-time resident, Anthony understands the unique needs and challenges faced by the people he serves. Having graduated from Charles Page High School in Sand Springs, Oklahoma, Anthony is a local who values community and is committed to making Osage County a safer place for everyone.
When he's not on duty, Anthony cherishes quality time with his family, taking the opportunity to create lasting memories in the beautiful Osage County. His dedication to both his professional and personal life make him a valued member of the Osage County Sheriff's Office team.
---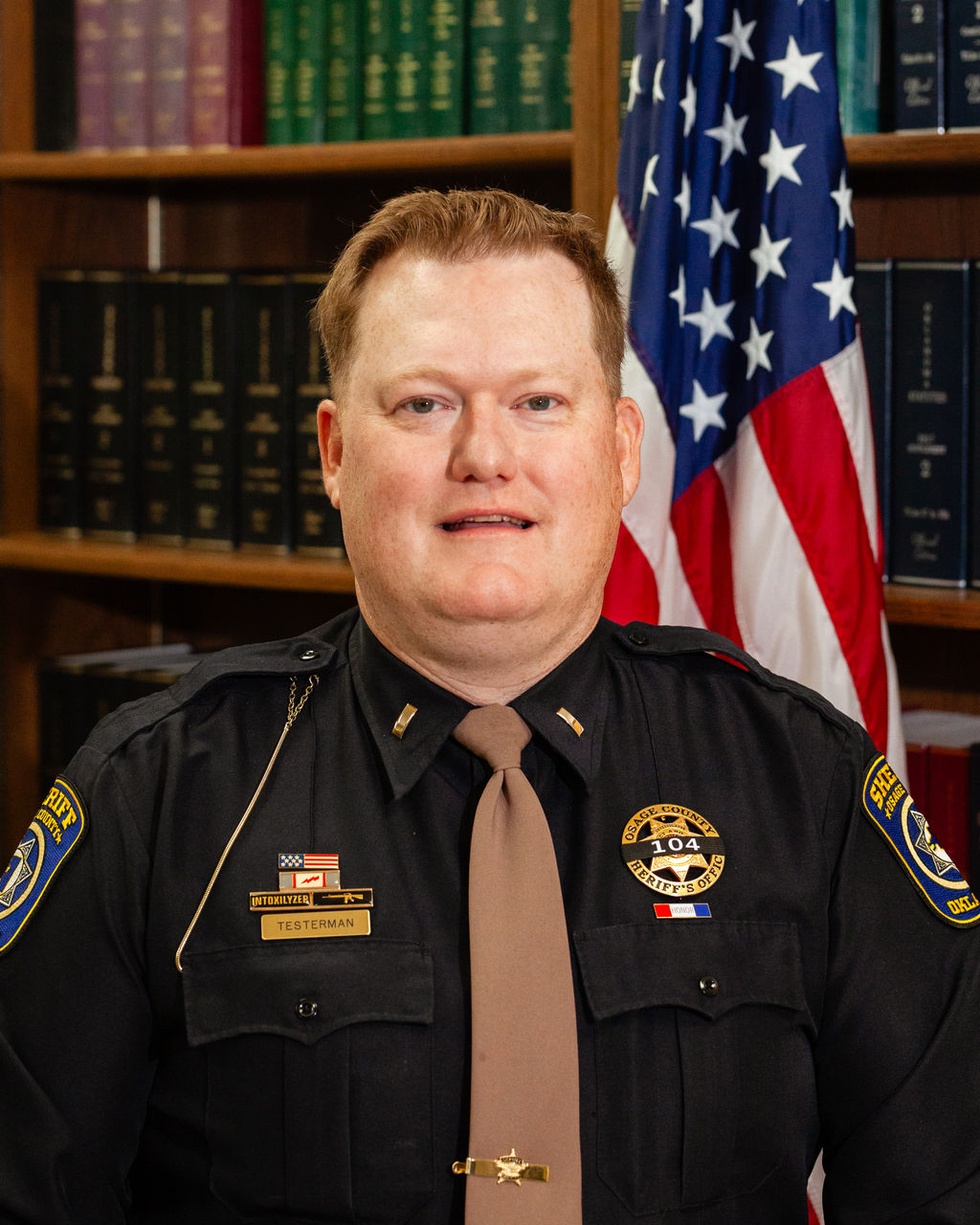 Robert Testerman
Robert Testerman was raised in Newkirk, Oklahoma. Robert attended Northern Oklahoma College where he took courses in agriculture and business. He enlisted in the United States Army Reserve as a Military Policeman in 1998. Robert was called to active duty several times in the eight years he served. He was sent to El Salvador as part of Operation New Horizons, then Washington D.C. after the September 11 attacks where he served as law enforcement in Operation Noble Eagle. He was then deployed in combat operations in Baghdad Iraq as part of Operation Iraqi Freedom.
After leaving military service he began his law enforcement career at the Pawhuska Police Department in 2008. He then moved on to the Osage County Sheriff's Office in 2011. Robert served as a Patrol Division Deputy for over five years, primarily in the southern district of the county.
Robert was promoted to the Sheriff's Drugs and Violent Crimes Task Force in 2017. While with the task force he graduated the Criminal Investigation Academy 68, as well as graduating the Oklahoma Bureau of Narcotics and Dangerous Drugs Investigator course.
In November 2017 Robert was promoted to Sergeant and transferred to Patrol Division as shift supervisor. In September 2018 Robert was promoted to Investigation Division where he now serves. Robert has attended additional courses in investigation of crime to include Interviews and Interrogations, Essentials of Criminal Investigations, and Basic Crime Scene Response.
---
Tom Nave
Tom Nave was raised in Northern Osage County and he has been involved with Livestock since an early age. He started in Law Enforcement in 1996 with the Cherokee Nation and began working in the Osage County Jail as a Detention Officer in 2000. He has worked in numerous other law enforcement capacities leading up to his current assignment as Patrol Lieutenant and Lead Investigator.
Basic & Advanced SWAT
Basic & Advanced Sniper Operations
Basic CLEET Instructor
Federal Firearms Instructor
OSBI Investigation Academy
DEA Investigation Academy
OBN Investigation Academy
Basic & Advanced Mantracking
Tom Nave has over 2000 Hours of CLEET Training under his belt.
---
Samantha Cornett
Samantha was born and raised in Leslie County, Kentucky and moved to Oklahoma in 2015. She then made Osage County her home in 2017.
Samantha started her Law Enforcement career in September 2017 at Osage County Dispatch. In March of 2020 Osage County Sheriff Eddie Virden commissioned Samantha as a Deputy for the Sheriff's Office. In August of 2020, Deputy Cornett attended the basic CLEET academy in Ada, OK graduating on December 31, 2020.
Deputy Cornett served as a Patrol Deputy for three years, primarily in the western district of the county. Deputy Cornett also serves on the Osage County Special Operations Team as entry or less lethal operator.
In January 2023, Deputy Cornett was promoted by Sheriff Virden to the Investigations Division as crime scene investigator receiving the rank of Lieutenant. Her current duties include Crime Scene Investigation and Evidence Collection in addition to Criminal Investigations.
When Samantha is not at work, she enjoys spending time with her family and friends.
---